Window style is one of the most important things to consider when upgrading your windows, and choosing whether to stick with your same style or try something new can be tricky. The master bedroom is an area that you use every day, so you'll want to put significant thought into your window choices for this room. Below are the best windows for your master bedroom to help guide you to a decision that will fit all your needs. 
Casement Windows
Ventilation is very important in a bedroom. A casement window opens to provide a room with plenty of ventilation. The glass pane is attached to one side of the frame with hinges, and you open the window by turning a crank or by pushing the window outward. You won't just get increased ventilation but also better views since most casements usually have muntins, just a clear pane of glass. Casement windows also lock, so your bedroom will be safe and secure.
Bay Windows 
A set of bay windows is a way to enjoy ventilation and a large picture window. Bay windows consist of a central picture window flanked on either side by movable windows. Single-hung, double-hung, and even casement windows are often used as flanking windows. Bay windows extend out from your home's exterior, which increases your interior space. Many homeowners like to use this extra space to add a window seat.
Picture Windows
If a clear, unobstructed view from your window is important, picture windows are perfect for your bedroom. These windows are large panes of fixed glass that do not open. Even though you'll have to sacrifice ventilation from that window, you can add other operational windows, like transoms above the picture window. Picture windows also increase natural light in your bedroom.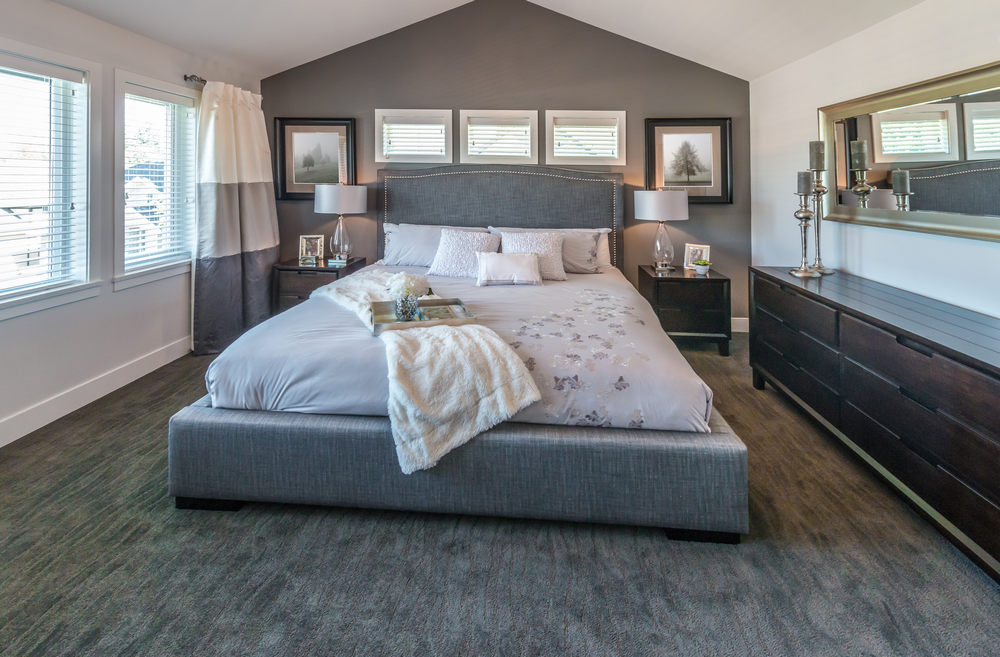 Double-Hung Windows
Double-hung windows are a very popular style for any room. Double-hung windows have two sashes that slide up and down vertically. They differ from single-hung windows because both sashes are operable, whereas, with a single-hung window, only one is. Designers tend to place more than one double-hung window in a large area like the master bedroom. They like to space them out so there is usable wall space between the windows. Consider placing several windows along a wall side by side to bring in lots of natural light.
Slider Windows
Slider windows slide open horizontally and are a great option to save space in the room. The window has two or three panes that slide side to side in a top and bottom track. With two panes, one or both sashes glide. If you have three panes, there is a stationary window in the center and two smaller gliders on either side. Slider windows are budget-friendly and durable since they don't use pulleys or cranks. They're also really easy to open and let in fresh air and natural light. Even switching to slider windows takes your room's style up a notch. 
The most important factors for bedroom windows are security, ventilation, and sunlight. Picking any of the above styles or combining them will benefit all three of these areas. At American Window Concepts, our team of experts can help you choose the best windows for your bedroom. Click here for a FREE quote or call (805) 833-6600 if you are in the Ventura/Santa Barbara area or (562) 512-1200 if you are in the Long Beach Area.